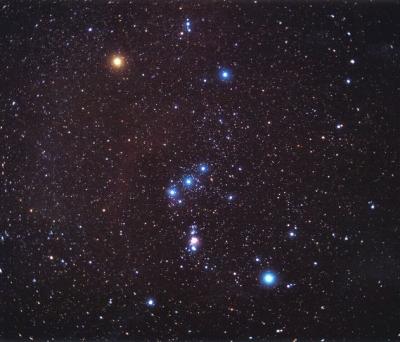 Kesil Costellation Job 9:9
The term is generally considered to apply to Orion, also called the hunter, a very prominent constellation containing the giant stars Betelgeuse and Rigel. The Latin Vulgate translated kesil′ as "Orion" in Job 9:9 and Amos 5:8. Most translations imitate the Latin Vulgate in viewing kesil′ as referring to Orion. The ancient Targum and Syriac versions read "giant," and this corresponds to the Arabic name for the Orion constellation, gabbar, or "strong one" (Hebrew equivalent, gib·bohr′).(it-2 p. 147)
Normalmente se cree que este término aplica a Orión, llamada también "El Cazador", una constelación fácilmente visible y en la que se encuentran las estrellas gigantes Betelgeuse y Rigel. La Vulgata latina tradujo kesíl por "Orión" en Job 9:9 y Amós 5:8. La mayoría de las traducciones siguen a la Vulgata y consideran que kesíl se refiere a Orión. Los targumes antiguos y las versiones siriacas dicen "gigante", lo que corresponde con el nombre árabe para la constelación Orión: gabbar, "El Fuerte" (su equivalente hebreo es: guib·bóhr)
.
You are some of the brightest because they belong to the constellation of Orion that is privileged to be in the brightest area of the sky. Here you see a Betelheuse (the armpit of the hunter) as a red supergiant, in contrast to Rigel (the foot) as a blue supergiant and giant Saif Hunter´s sword in the mid

of the two and looking down. And since we mention three of the Belt of Orion, (the belt of the hunter) and Alnilam, Miltaka and Alnitak, also known as Las Tres Marias and the Three Kings. The only ones that are so close together in sky nest to each other like the noughts and crosses.
Ademas son algunas de las mas brillantes pues pertenecen a la constelacion de Orion que tiene el privilegio de estar en la zona mas brillante del cielo. Aqui veis a Betelheuse (la axila del cazador)como una Supergigante Roja, contrastando con Rigel (el pie) como una super gigante Azul y Saif la espada del Gigante Cazador enmedio de las dos y mirando hacia abajo. Y ya que estamos mencionaremos la las tres del Cinturon de Orion, (que es el cinturon del cazador) Alnitak y Alnilam y Miltaka, tambien conocidas como las Tres Marias o los Tres Reyes. Las Unicas que encontramos tan juntas en el cielo una aladito de las otras como en el tres en raya.